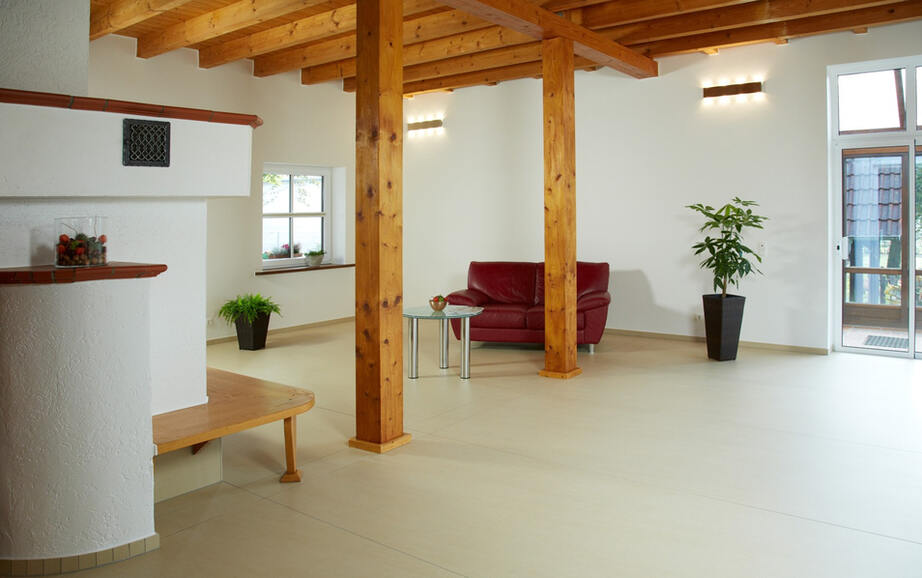 A stylish floor with large tiles
PCI specialist advice: reliable laying of large tiles
A stylish floor with large tiles
PCI specialist advice: reliable laying of large tiles
Large tiles are fashionable. They not only create an exclusive, modern impression but also make small rooms look larger and large rooms seem calmer. This was why master tiler Jens Pomplun from Linnich used 270 x 120 cm fully vitrified tiles in his living room. He not only benefited from PCI advice and professional workmanship in his private life but was also able to gain valuable experience and specialist knowledge in the new area of laying large tiles.

In this case, the rehabilitation of the substrate posed a special challenge. In the living room, the heated screed was faulty in some places and only very little height was available for the floor covering. The master tiler used the following system on the basis of advice provided by PCI application technician Lukas Lukuc: the cement screed was first primed using PCI Gisogrund 404. The screed was levelled using PCI Armiermatte GFM to reinforce the PCI Periplan Extra levelling compound and to improve its tensile strength. The levelling compound was poured out onto the surface, distributed with a skid leveller and then aerated and levelled using a spiked roller.

Jens Pomplun used PCI Rapidflott flowable tile adhesive with the polymer-modified additive PCI Lastoflex to lay the tiles. This supple adhesive is especially well-suited for laying ceramic tiling and cotto with virtually no voids. Following the application of adhesive to the back of the slabs, they were laid directly into the wet adhesive. As a result of the rapid hardening of the mortar, the tiling could already be grouted with PCI Flexfug about three hours after laying. The living room of the single-family home was tiled using beige Neolith tiles with a size of 270 x 120 cm and a thickness of 5 mm. The smaller size of 120 x 120 cm was used in the kitchen, hall and corridor. A star-shaped feature using two different natural types of natural stone is a special eyecatcher in the hall.
Size
About 115 m² of floor tiles and skirting tiles
Products used
PCI Periplan® Extra, PCI Lastoflex®, PCI Flexfug®, PCI Gisogrund® 404, PCI Armiermatte GFM, PCI Rapidflott
Specialist advice
Lukas Lukuc - PCI applications technician Oliver Heuser, Markus Mielczarek - PCI technical advisers
Owner
Jens Pomplun, Linnich
Company
Jens Pomplun, master tiler, Linnich
Planung
Jens Pomplun, master tiler, Linnich
Your contact for inquiries:
Download project report