PCI Carrament

®

grey
Medium-bed and bedding mortar
for natural stones and fully-vitrified coverings

Medium-bed and bedding mortar
for natural stones and fully-vitrified coverings
Areas of application
For indoor and outdoor use.
For walls and floors.
For laying natural stone slabs (also free length).
For laying large-format fully-vitrified flagstones.
For leveling irregular substrates before laying tiles.
PCI Carrament grey also suitable to lay clinker bricks in sewage construction.
On stairs and dados of houses, in living areas, on electric underfloor heating systems, heated screeds, balconies and terraces, in halls, rooms and corridors of industrial buildings, markets, institutional, service and administration buildings.
Medium-bed and bedding mortar PCI Carrament grey
Product features
Creamy, workable bedding mortar to be applied by trowel.
Flexible, compensates fluctuations in temperature and expansions in the substrate.
Good adhesion to concrete, cement screed and render without pre-wetting or priming.
Effective crystalline water binding capacity, therefore especially suitable for large-format ceramic flagstones.
Low shrinkage, no tensions caused by shrinkage between PCI Carrament and natural stone slab even with large mortar bed thicknesses (up to 4 cm).
Resistant to permanent wetness and frost, multi-purpose use indoors and out, on walls and floors.
Fast setting, reduces penetration of moisture into the material during the installation thus preventing efflorescence.
Fast curing, walkable and groutable after approx. 4 hours, able to bear weight after approx. 1 day.

PCI Carrament

meets the requirements of C2FE in accordance with DIN EN 12004.

With the addition of PCI Lastoflex, meets the C2FE S2 classification according to DIN 12004 and 12002.

All test certificates

are available under www.pci-augsburg.de.
Forms of delivery:
25-kg-bag
Consumption calculator
Your Result
Quantity Required approximately
corresponds
This consumption calculation included in the program contains approximate values based on experiences which might considerably vary upwards and also downwards depending on the structure of substrate, type of tiles, different profiles on the reverse sides, type of tiling tools, work method a.o. Calculations are therefore not allowed to be based on these values. In case of larger projects we recommend to assess the consumption by making a trial surface. Applications in the combined method (buttering-floating) increase the consumption by approx. 20 to 25%. In case of powder products the data relate to the consumption of dry powder for easier calculation of the material requirement.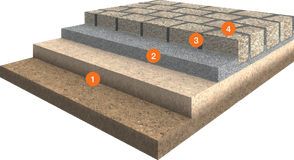 System for laying and grouting paving subject to light or moderate mechanical loading
Downloads
Declaration of performance EN 12004 (C2FE)
Sustainability data sheet
Classification report EN 13501-1 (A2fl-s1)
Combined with product:
PCI Carrament® grey
Classification report EN 13501-1 (A2-s1,d0)
Combined with product:
PCI Carrament® grey
Licensing GEV EMICODE (EC1 PLUS)
Combined with product:
PCI Carrament® grey